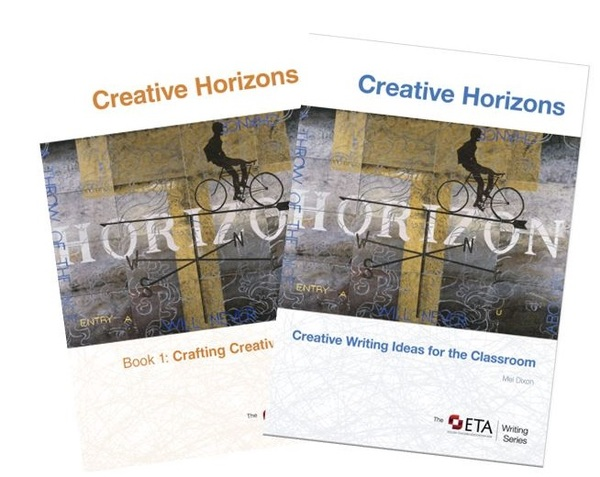 Creative writing is one of the most difficult skills we can impart to our students and yet we persist. It is, through creative writing that we impart the important lessons about empathy, perspective, culture. The individual becomes empowered through the act of self-expression which validates their experiences, memories and life events. We learn through story; we hear different voices through story; we understand ourselves better through story. This first book in a series of three books on creative writing offers ideas on programming with specific lessons, moving from reading to writing, scaffolding learning over the four years of junior secondary school. The elements of stories are explained with examples and activities; these ideas are reinforced through worksheets which invite students to write their own compositions.
This second book in a series of three on creative writing offers advice to teachers on how to organise their creative writing classrooms; the book features the work of teachers across Australia, with successful 'dip into' lessons that you can use in any classroom; the lessons range from single worksheets to extended lessons following visible thinking pedagogy. The English Textual Concepts and ACARA strands of literature, literacy and language are evident in the lessons, supporting syllabus requirements.
The sub-title of this book is Creative Writing Ideas for the Classroom. Principal writers are John Acutt, Sue Bittner, Mel Dixon and Rosie Kerin.
Creative Horizons Book 3: Writing like a Writer. This latest book in the Creative Horizons series, responds directly to the syllabus and offers lessons on the following writing forms: informative, persuasive, imaginative, poetic and discursive writing as well as chapters on life writing (with creative nonfiction), digital texts and playing with texts (transformation and parody). John Marsden finishes off the selection with an epilogue in his chapter 'From teacher to writer'.
Experienced published writers (Will Kostakis, Richard Glover, Hazel Smith, John Marsden, Ryan O'Neill, Michael Bauer, Kirsty Everett, Peter Ramm, David Leys, Mark Rafidi) join teacher/writers in this exploration of the writer's craft. Writers offer annotated extracts, tell us about how they wrote, followed by guided activities so that students can practise developing their own writing.
Price $60 for each book

About the book
This book aims to explain some key concepts in cultural competence while also providing text recommendations and resources to use in the English classroom.
The book therefore operates on two levels: personal development and cultural competence training for teachers; and practical lesson and unit ideas using First Nations texts, topics and ways of learning.
The book also answers some Frequently Asked Questions troubling educators across Australia, without judgement or offence.
Chapters include
? terminology ? key protocols ? background information ? First Nations worldviews ? culturaly responsive classrooms ? cross-disciplinary approaches ? genre studies with First Nations literature
Price $39.95

The foundation of Activating Reading Capabilities in English is students' reading experiences gathered and examined during a seven-year research and professional learning program for secondary English teachers. Attending closely to students' experiences and broader research into reading processes, a framework of reading capabilities was developed and trialled in schools. This book describes the power of each of those reading capabilities and includes reading activities that teachers designed to activate the capabilities and engage students to think deeply about texts, collaborate with peers, and respond with imagination and scrutiny. This is a practical book, including samples of student work, but it also provokes English teachers to critically reflect on practice and trust their imaginations.
Price: $69.95
AATE has published a valuable new text about the teaching of short stories, Creating Micro

Stories: Small Fiction with Big Impact! written by AATE past-president Erika Boas and Emma Jenkins. This text focuses on those sorts of stories that most of our students need to write, stories under 1000 words. The book features a wide range of award-winning student stories as well as stories from celebrated writers such as Will Kostakis, Tristan Bancks, Libby Gleeson.
Price $39.95

Analysing Texts provides step-by-step guidance for students (Year 10 and above) engaging with texts of all kinds, from traditional literature to contemporary media. Genre, form, style and literary techniques are investigated in detail, using annotated extracts drawn from many historical, cultural and social contexts. Students and teachers will find Analysing Texts a vital resource that makes texts accessible and more enjoyable to study.

The book features:
practical strategies for analysing any text in context, and methods for planning essay responses
exercises and activities to develop, practise, refine and revise skills
a comprehensive glossary of literary terms.
Price: $43.95

Insight's Literature Handbook: A guide to literary analysis is a comprehensive and accessible reference book for middle through to senior secondary-school students of English literature. It introduces the essential knowledge and skills for analysing the traditional literary forms of novels, short stories, drama and poetry. It also includes chapters on analysing film and literary nonfiction.
The Literature Handbook also explains and models the ways in which a range of theoretical frameworks can be used to create different readings of literary works, making this book a versatile and practical resource for all literature students.
Price: $54.95
Creative Horizons,Creating Micro Sories, Analysing Texts and Literature Handbook are available from ETAQ.
If you would like to purchase any of these, please email Trish Purcell at adminofficer@etaq.org.au
The Australian Association for the Teaching of English and some of the English Teachers Associations in different states offer a range of resources for sale through their websites. The links below will take you straight to the relevant pages.

Online Store - AATE - Australian Association for the Teaching of English (www.aate.org.au)
http://www.aate.org.au/products/online-store