Peter Botsman Award 2003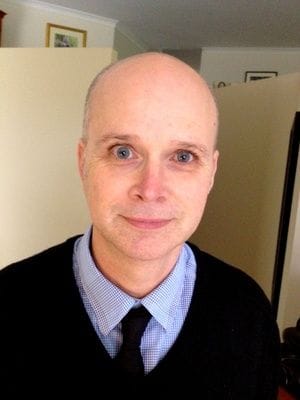 Lindsay Williams
Lindsay Williams is a person with whom you are all well acquainted. His work on developing English curriculum both in the classroom and in the wider English community has been outstanding and places him in the forefront of English teaching in this state.
With a career that spans twenty years, beginning at the Springsure Secondary Department, Lindsay has not only followed the waves of syllabus changes but has in many cases been part of the influence.
His teaching began in 1983 at Springsure, then to Shailer Park and then on to English Department Head at Dakabin in 1990. From Dakabin he moved on to Park Ridge where he started to develop an interest in curriculum, and was seconded as Education Officer in 1992 to work as part of the English syllabus team. In 1999 he commenced his present position as Head of English at the Anglican Church School (Churchie).
His work on committees has been tireless and constant. He was on the English Subject Advisory Committee from 1989–1993, the Queensland Reference Group for the National English Statement and Profile from 1991-93, North Brisbane Language Arts Project in 1991, External English Examinations Sub-committee for the BSSSS from 1991-95, the Language Reference Group for the South Coast region from 1993-96, the English Review Panel for the South Coast Region from 1994-98, the Steering Committee for Global Education in English Project, the Subject Advisory Committee for Years 1-10 English from 2000 to 2003 and Review Panel Chair for Brisbane Central District
During this time he continued with his research projects that include:
1991 Senior Schooling – Autonomous Learning in the Senior School
1991 Metropolitan East English Language Arts Cross-Referencing Task Force
1992-97 Asian Studies Magnet Schools and Asian Studies Project
1993 Identifying Key Features of Selected Genres Workshop
1995 Global Education: Integrating Curriculum and Professional Development, Griffith University
1995-96 'The Production of Power, Knowledge and Truth within Discourse of a Critical Literacy Classroom' with Dr Wendy Morgan
1996 Symposium to review implementation of the English syllabus for Year 1 to 10
1997 'Alternative Literacy Approaches in Secondary Schools' research by Christa can Kraayenoord (Schonell Special Education Research Centre, University of Queensland)
1998 'Technology, Critical Literacy and English Teachers' with Dr Wendy Morgan
2001-2 Syllabus in development and trial school for Years 1 to 10 English syllabus, QSA
But perhaps Lindsay is better known from his contacts with other teachers in workshops he has presented. He has presented for the Education Department, for the Peninsula Region English Teachers Association, for Catholic Education in Brisbane and the Darling Downs, at Griffith and QUT, for AISQ and has been invited to many individual schools to share his work and assist in the development of sound English teaching practice.
His papers and published articles, some co-authored, further illustrate the extent of his knowledge of subject English and its applications with contributions in
A World of Texts: Global Understanding in the English Classroom,
Critical Literacy Readings and Resources by AATE
Teaching and Learning (About) Written language: Approaches through Functional Grammar and Critical Literacy.
'Critical Literacy in the Senior English Curriculum' in John Fein and Vicki Keliher (eds) Gbobal Education
Integrating Curriculum and Professional Development for Global Education, Griffith University
and many more articles including regular contributions to ETAQ and Words'Worth.

Just as he helped introduce critical literacy into our classrooms through workshops and publications, he is now leading us into new terrains, focusing on computers in the classroom and boys and literacy. His great strength is his ability to reinvent himself and his teaching, to be aware of new trends in academic and adolescent thinking and to transform what os meaningless theory for many into practical and workable teaching practice. He is able to do this because not only is he aware of the macro level but also the micro level. His skill as a communicator cannot be underestimated in this.
ETAQ has always been able to depend on Lindsay to provide workshops that attract teachers and offer inspiration to all. We always know that he will present a polished performance that will challenge not only us but also our students. We also know that whatever he offers is user friendly. This same standard is applied at national and international level where Lindsay has addressed audiences.
Not only is he involved in shaping curriculum, but also in co-curricular matters he demonstrates just how creative English teachers can be and how much they can affect the life of a school. He has assisted with school musicals, coached debating, co-ordinated the Plain English Speaking Award in the South Coast with Judy Murphy and run leadership camps.
It is with great pleasure that we are able to acknowledge Lindsay's many years of work with the Peter Botsman Award.