Peter Botsman Award 2002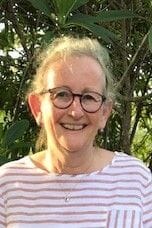 Heather Fraser
"There are people I believe who are born to be our children's teachers, Heather Fraser is one of them". The 2002 recipient of the Peter Botsman Award (Classroom Division) is a woman who has touched the lives of countless young people. The heartfelt words with which I opened this address are testimony to the profound impact Heather has had, not only upon the profession, but also on individual students. Heather began her career in 1981 after completing a Bachelor of Education at James Cook University of North Queensland. She began teaching at Pimlico State High School where she quickly established herself as a dynamic educator for whom innovation was a passion. In 1984 she enjoyed a brief sojourn in Britain and Europe.
She returned to our shores in 1985 and joined the staff at James Nash State High School as Co-ordinator of the Theatre Department. From Guys and Dolls to Godspell, Heather was in the thick of everything.
In 1988, Heather headed north once again to assume the role of English Head of Department at Ayr State High School. In the words of her Principal, Gail Mackay, Heather transformed the department into a "vibrant and forward looking" team. She continued to coach debating teams into the finals, and breathed life into public speaking within the school. It should be noted that this was done whilst commuting daily between Townsville and Ayr (a one hour drive each way). Of her performance as English HOD, a colleague commented at the time that Heather was "the best person in that position ever", no small claim by any standard.
Following the birth of her son, Nicholas, in 1990, Heather taught in a part-time capacity as a Speech and Drama teacher at St Margaret Mary's College in Townsville. Despite the demands of new motherhood and a devastating bout of meningitis that year, Heather quickly endeared herself to the College community – people hoped that the brief time she was with them would not be the last they would see of this wonderful professional.
1992 saw Heather in the position of HOD at Pimlico State High School and she remained there until 1997. Her years at Pimlico High cemented Heather's position as one of the region's most valued English educators. Having been a founding member of ETAQ in Townsville, Heather continued her active involvement in the Association as Treasurer and meeting coordinator for the branch. Heather has always been a driving force in the promotion and implementation of critical literacy in the north. Since 1992 she has been actively involved in shaping new generations of English teachers through guest appearances as a lecturer in English curriculum at James Cook University. In 1996, whilst studying for her Masters, she edited Challenging the Text a publication that was subsequently nominated for a national award for Excellence in Teaching.
However, nothing is more important to Heather than the students with whom she works. She is intensely dedicated and caring. There aren't many teachers who find themselves in front of a Year 12 English class, in the early stages of labour, because they've been working with the students on a volunteer basis to ensure their final year was not disrupted. Ask any of her students how she has influenced them and the answer is invariably the same, "She taught me to think." One of her greatest contributions to English education has been Heather's passionate commitment to developing dynamic curriculum that challenges students to think outside the square.
Heather joined the staff of St Margaret Mary's College once again in 1998, when she took up the position of English HOD. During her time at St Margaret Mary's College, Heather has overseen the growth of the English Department, as well as the implementation of the Senior English Trial-Pilot Syllabus both within the College, and the region, as B35 District Panel Chair. She is a caring, generous person whose sense of humour and warmth ensure there's never a dull moment. Those who have worked with Heather would know, she'll always support 'any reason for a dress-up'. She is also the proud owner of one of the state's most extensive wardrobes. There are few eras or identities for which Heather can't outfit you!
In composing this citation, it was difficult deciding what to leave out. This is a woman with a reputation! In twenty-one years of teaching there is little she hasn't done, and few lives she has left untouched. This afternoon we acknowledge the contribution of a woman deeply dedicated to the profession and the students in her care. Heather considers teaching, the practice of what she calls, 'love theory'. It is this underlying philosophy that has seen her pass up some rather attractive offers to remain in the classroom. She has given countless hours to innumerable students in order to ensure that they are each given the opportunity to realise their potential. Although the reality of this is that she rarely enjoys lunch, and morning tea simply does not exist, Heather's dedication is unswerving. As one student writes, "Somewhere this amazing woman has devoted the same energy to all her students .... she gave us her undivided attention and made us all feel special". This esteem is echoed by colleagues such as Professor Pam Gilbert who considers Heather "a pivotal link in secondary English Education in [the northern] region", and someone who holds a "privileged place within the education community".
Heather has had an enormous impact on English teaching in the northern region. Through her innovation, dedication and passion, she continues to make things happen. My concluding words are from the privileged staff with whom she works: "Frase, we salute you!"