Peter Botsman Award 2005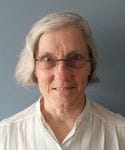 Dr Lenore Ferguson
In 2005 Dr Lenore Ferguson was awarded the Botsman for excellence beyond the classroom.
Dr Lenore Ferguson has played a significant role in the English community and in ETAQ for over 20 years. She has taught in many schools across the independent and state sectors. Her career as a teacher has taken many turns and changes but her focus has always been on English and the maintenance of the integrity of English. She has been outspoken in her defence of subject English and in her support of teachers across the state.
An interest in further study about student learning and success led to her completing her Phd while serving with Education Queensland. She has shared her interest in functional grammar in workshops across the state and also in her full time teaching at QUT. She has always taken time to support and mentor younger teachers who can take up the challenge of teaching excellence.
It is this support of others that makes Lenore stand out. Her nominee, Helen Rivers has commented on this element of Lenore's professionalism.
As a past president of ETAQ, as a member of the Management Committee for twenty years and as Senior Policy Officer (English) at Education Queensland, Lenore has worked tirelessly to help shape the direction of English across the state. She has never lost sight of the breadth and depth of English in her work and it is for this that she has gained the respect of English teachers across the state.