Peter Botsman Award 2007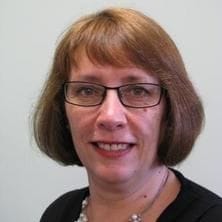 Dr Karen Moni
This award acknowledges Dr Karen Moni's significant contribution to English teaching in Queensland in three areas:
As a teacher educator at the University of Queensland
As President of the Association
As a member of the National Council of AATE and Editor of the AATE journal English in Australia
Teacher Educator
Karen is Director of Secondary Programs in the School of Education at the University of Queensland. She co-ordinates the English curriculum courses and teaches in the areas of reading and young adult literature in undergraduate and post-graduate programs. She has had extensive experience teaching and researching in the field of English and literacy education in the UK and in Australia.
The quality of Karen's work as a teacher educator was formally acknowledged by a University of Queensland award for teaching and learning last year. However there are less formal signs. It is not uncommon for new English teachers joining ETAQ, when they become aware of Karen's role in ETAQ to comment the influence that she had on them and on the high esteem in which they hold her.
ETAQ President
Karen was President of the association from 2001 to mid 2005. As well as providing calm, steady and harmonious leadership for routine activities over that time she enthusiastically embraced the significant challenge of jointly hosting a national conference. Her leadership, diplomacy, perseverance, determination and attention to detail were key factors in making the 2005 PPPQ (Pleasure, Passion and Provocation) conference at the Gold Coast Convention Centre such a resounding success.
Contributor to AATE
Whilst President Karen had represented ETAQ on the national council of the umbrella national body AATE, the Australian Association for the Teaching of English. After the demanding task of playing a leading role in mounting a national conference it would have been understandable if she had opted for a complete rest. But no. Instead, Karen volunteered to take on the role of Editor of English in Australia, AATE's national journal. In that capacity she continues to make a very distinguished contribution to English teaching, not only here in Queensland, but across the country.
Dr Karen Moni is indeed a very deserving recipient of one of this year's Peter Botsman memorial Awards.