Townsville ETAQ branch goes to JCU
Written on the 9 June 2019 by Heather Fraser
Wow! On Saturday 4th May Townsville ETAQ went to James Cook University and had a lot of fun!

The conference was opened by Professor Richard Nile Head of Humanities at James Cook University, Professor Australian History.
JCU recognises the significance that technology has on our practice in humanities disciplines. We explored some old and new technologies and how they can be used to help us better understand and communicate the world in texts and texts in the world.
Exciting approaches to English assessment - Associate Professor Ryan Cordell (Northeastern University, Boston, USA). Ryan tuned into us from London at midnight his time.
Workshops:
Using collaborative annotation to engage with texts from the past - Dr Roger Osborne (English @ JCU)
Telling stories with and about maps - Dr Bryan Smith (Education @ JCU)
Scrapbooking cinema: using a scrapbook aesthetic for interpreting film - Associate Professor Allison Craven (English @ JCU)
Conclusion: Gamifying Shakespeare innovative approaches to teaching Shakespeare
Presenters:
Ryan Cordell is associate professor of English at Northeastern University, Boston, and a core founding faculty member in the NULab for Texts, Maps, and Networks. His scholarship seeks to illuminate how technologies of production, reception, and remediation shape the meanings of texts within communities.

Allison Craven is Associate Professor of English and Screen Studies in the College of Arts, Society and Education at JCU, and the Colin and Margaret Roderick Scholar in Comparative Literature. Her main areas of research are Australian cinema; and fairy tale and gothic narrative. She is the author of Finding Queensland in Australian Cinema: Poetics and Screen Geographies (2016); and Fairy Tale Interrupted: Feminism, Masculinity, Wonder Cinema (2017).

Roger Osborne researches in the fields of Australian literature and British Modernism seen through the lens of book history, magazine culture, and scholarly editing. He is a contributing editor to the Cambridge Edition of the Works of Joseph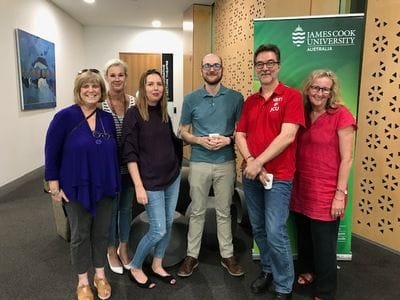 Conrad, and his work on the trans-national nature of Australian print culture has been published widely. His co-authored book, Australian Books and Authors in the American Marketplace 1840s-1940s, the first of two projected volumes, was published by Sydney University Press in 2018.

Bryan Smith is a lecturer in education whose work looks at cartographies and narrative, with a focus on the storying of local and national histories as they are written into and through mapping practices. Specifically, his work looks to support student inquiries into the often-unseen historical narratives of place.
The food was magnificent, the company was glorious and a spectacular time was had by all.
Left Associate Professor Alison Craven, Associate Professor Leanne Dalley, Associate Professor Victoria Kuttainen, Dr Bryan Smith, and Dr Roger Osborne and Heather Fraser ETAQ President Townsville Branch
Author:
Heather Fraser
About: President Townsville ETAQ Branch