Syllabus review
Written on the 18 June 2016
Senior Syllabuses Draft 1: English, Essential English, Literature, English as an Additional Language
ETAQ response, May 2016
Preamble
The QCAA's process of developing the suite of English syllabuses is gambling apace as syllabuses are written, feedback is sought on them and they are rewritten throughout this year, ready for implementation in 2018. ETAQ members were invited to respond to important aspects of the syllabus in May. Many thanks are due to the many members who shared their wisdom and experience to inform this important process.

Another important aspect of this process is to understand the relative status of each syllabus as currently designed. English, Essential English, English as an Additional Language and Literature all have the same status. Students are meant to choose. one of these English subjects. English Extension remains as an extra English subject which can be added in year 12 only. Essential English is meant to fill the role currently played by English Communication. Literature is a new subject for Queensland schools and is strongly based on ACARA's Literature subject.

Below is the collation of those responses which has been forwarded to the QCAA for consideration:

Introduction
The English Teachers Association of Queensland (ETAQ) has provision for both individual and school corporate membership and a conservative estimate of membership coverage extends to at least 2500 teachers. It has a reach across the state and across schooling sectors and has a history of strong advocacy for English teachers.
The comments below provide reflection on aspects of the draft senior syllabus for English that we believe would benefit from revision. Those aspects which meet their purpose suitably have not been commented upon.
ETAQ commissioned a survey of members to gather comments on the first draft of the surveys in the English suite of syllabuses, as well as elements of assessment for the next stage of syllabus writing. Survey results, as well as deliberations of the ETAQ management committee, are the basis of our comments below.
Rationale
We perceive that the different 'flavours' of these courses seem to be characterised by the following inclusions in the course rationales:
English: "The subject English is a study of literature, media and language which provides students with opportunities to develop higher-order thinking skills through interpretation, analysis and creation of varied literary and non-literary texts"
Essential English: "The subject Essential English develops and refines students' language, literature and literacy skills which enable them to interact confidently and effectively with others in everyday, community, social and applied learning contexts"
Literature: "The subject Literature focuses on the study of literary texts, developing students as independent, innovative and creative learners and thinkers who appreciate the aesthetic use of language, analyse perspectives and evidence, and challenge ideas and interpretations through the analysis and creation of varied literary texts"
English as an Additional Language (EAL): "The subject English as an Additional Language is designed to develop students' knowledge, understanding and skills in Standard Australian English (SAE), and provides students with opportunities to develop higher-order thinking skills through interpretation, analysis and creation of varied literary, non-literary and academic texts"
The distinctions between the different English subjects seem minimal to members. Although 'literature' (or 'literary texts') is signalled as content for all of these courses, the points of difference between the courses is not clearly signalled. For example, 'media' texts are only explicitly signalled for the English course, and the rationale for excluding these is in Essential English and EAL is unclear.
The term 'non-literary' texts is used throughout the draft documents as a catch-all for everything that isn't literature, but the phrase "a range of literary and non-literary texts" does not provide high enough definition for teachers to make decisions about course content. This is particularly a concern for teachers working in small or remote schools who rely on these documents to provide clear guidance for local decision making.
Recommendation 1: That the language of the rationale sections include clearer direction about the points of difference in content/focus (i.e. literature, media, personal, or community/workplace texts) and difficulty (e.g. perhaps language 'competence' for Essential English and EAL vs 'mastery' in English and Literature).

Conceptual frameworks
There is a clear indication that Queensland will continue to draw on the context-text model of language that underpins the Australian Curriculum and has informed previous curriculum in Queensland, and this is welcomed by members. The addition of a diagram representing this model to this section of the syllabus would further add to the clarity of this conceptual framework for teachers (e.g. Figure 1).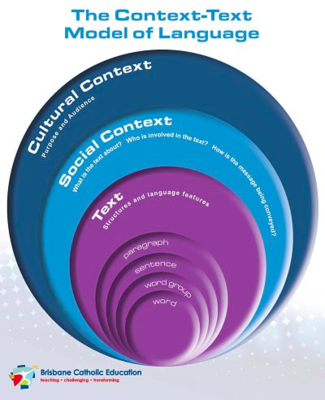 Figure 1: Example diagram illustrating the context-text model of language
This section should also be extended to provide a clear direction about the valuing of various language modes (reading/writing, speaking/listening, viewing/designing) and mediums of production (print, live, digital).
With the introduction of a Literature course, it would also be prudent to indicate how the meta-genre of 'literature' is conceptualised. The 2010 syllabus contrasts 'literary' with 'non-literary' texts, but this binary is conceptually insufficient. We have an opportunity with this new syllabus to indicate the properties of literary texts (e.g. they represent imaginative worlds; they draw heavily on aesthetic features), along with other meta-genres (e.g. 'media' or 'public' texts; 'community' or 'personal' texts).
It is also important that the study of literary texts is valued as vital content in all English courses, not just in the Literature course. Although this can be gleaned from very close reading of the syllabuses side-by-side, inclusion of comments on this in the conceptual framework for all syllabuses will provide clarity on this matter.
Recommendation 2:
That the conceptual framework section includes the diagram illustrating the context-text model of language.
Recommendation 3: That phrasing throughout the syllabus more accurately reflects the context-text model (e.g. the phrase in the introductory paragraph would be more accurately phrased as 'language, text and context (purpose and audience).')
Recommendation 4:
That the conceptual framework contain further information to avoid confusion throughout the syllabus between the concepts of language modes (i.e. reading/writing, speaking/listening, viewing/designing), production mediums (e.g. broadly classified as print, live, or digital), and genre (e.g. broadly classified as literature, media, personal, and community/workplace texts).

Syllabus: objectives
Members consistently express a desire for syllabus objectives to be presented in a numbered list rather than a bullet-point list. Referring to objectives from a bullet point list is cumbersome and constitutes a real barrier to professional discussion (i.e. "objective 8" is a far clearer reference than "fourth bullet point from the bottom"). A numbered list will also enable easier representation of the objectives in work plans and other professional documentation.
We note that the syllabus objectives for four of the courses (English, Literature, EAL, and Essential English) are identical, with different objectives having been set for Extension English. Although the rationale for having identical objectives for English and Literature can be gleaned (i.e. it indicates that these two courses are intended to be of similar depth and difficulty), it seems that writing different objectives for Essential English, and perhaps for EAL (depending on how it is being pitched) would be another way of representing points of difference between the various courses.
Recommendation 5:
That the syllabus objectives be presented in a numbered list.
Recommendation 6: That courses of equal depth and difficulty (English, Literature, and possibly EAL) continue to be developed with identical objectives, but that the lower difficulty of at least Essential English be reflected in different objectives, as has been provided to reflect the more difficult level of Extension English).

Syllabus: content of units
Unit objectives:
The replication of ALL syllabus objectives for each unit makes the syllabus element of 'unit objectives' redundant. It would be clearer to indicate at the outset of the syllabus that all objectives should be worked toward in every unit.
Unit content:
Some members commented that the Literature course has the potential to be a great subject, but that in contrast the syllabus for English does not contain enough detail to allow teachers to evaluate the direction being taken.
Members also commented on the lack of guidance regarding the distinction between the four units in English. Although the progression from a focus on local (unit 1), to national (unit 2), to global (unit 3), to historical (unit 4) contexts is apparent, this progression does not reflect a logical development of knowledge and skills in English from year 11 through to year 12, based on the conceptual framework.
An alternative model for unit content could be:
Unit 1: Texts in the context of situation
Unit 2: Texts in the context of culture
Unit 3: Representations of people, time and place
Unit 4: Making personal and social meanings
This is just one example to demonstrate how an alternative approach to content might develop fundamental skills in textual study during year 11 for application to increasingly difficult studies of representation and meaning making in year 12.
Recommendation 7: That 'unit objectives' be removed as they are redundant, OR the replication of every 'syllabus objective' in each unit reconsidered to make clear to users any distinctions between the units.
Recommendation 8:
That the four units in English be given titles that reflect their content, as has been provided in the Literature syllabus.
Recommendation 9: That the focus of the four units in English be reconsidered to provide a sequence of learning that more appropriately guides the development of students' knowledge and skills.

Text selection
The majority of members expressed the strong view that they valued the choice of texts that they currently have. Many recognised a need to have a prescribed list of texts to select from for the external assessment, acknowledging that this is likely to be an analytical exposition in response to literature. For the majority, there was a preference for indicative rather than 'set' texts for the other units.
Members also showed concern that, with four assessment pieces, there is the potential that critical English texts such as poetry may possibly be not included, an outcome which would be of concern. At present, there is little to no guidance to schools as to which text types are compulsory and which are recommended.
One fear is that students might study English throughout years 11 and 12 without, for example, exploring poetry or reading a complete novel - the syllabuses in their current draft contain no requirements that prevent this. Another fear is that too much prescription - such as setting texts for every unit - would provide too little flexibility to respond to student interests and needs.
Recommendation 10:
That explicit requirements for the study of a range of texts (including poetry) is required to ensure balanced coverage (akin to the current 2010 syllabus for English).
Recommendation 11: That core texts be set for the unit that aligns with the external assessment, but not for the units that are internally assessed.

External assessment
A strong majority of members have expressed a preference for the external assessment piece for English and Literature to be an analytical exposition in response to literature. Factors commented upon included suggestions that an essay is a text type that is more generic and easier/fairer for marking, as well as easiest to prepare for. Some suggested that the analytical exposition could be in response to other texts, such as media texts, poetry, film or other texts.
Opinion was quite evenly split between the options of assignment and short answer exam for the external assessment for Essential English. However the indication of these tasks as preferable to an analytical exposition under exam conditions reflects the notion that Essential English is a course designed around text and language in "everyday, community, social and applied learning contexts" (from the Essential English rationale).
Opinion was also somewhat split as to the preferred assessment mode for English as an Additional Language. The largest response (near majority) expressed a preference for a short answer exam. Other opinion was split between essay in response to literature, public text and 'other'. Many commented on the perception that EAL students would not have the capacity to manage more than a short answer exam.
Recommendation 12:
That external assessment items reflect the nature of each of the subjects and vary according to the relative strengths of the various cohorts.

Internal Assessment
Members expressed a desire to have as much flexibility as possible for the internal assessments in terms of genre and content. They strongly valued the sort of choice inherent in the current suite of English syllabuses and wished to keep that flexibility.
There is concern that the reduced number of assessment items will prevent the full range of language modes to be adequately assessed in year 11 and year 12. Students ideally should demonstrate their skills in writing, speaking, and multimodal designing in each year level and the construction of internal assessment should enable this.
Recommendation 13:
That internal assessment maintain a level of choice of genre and content combinations.
Recommendation 14: That internal assessment tasks enable teachers to evaluate students' development in writing, speaking and multimodal designing in both year 11 and year 12.
Time Frame
Members expressed deep concerns about the fast pace of this development process, given the scope and significance of the proposed changes. The expectation that teachers would not be able to review all five draft syllabuses (for English, Literature, EAL, Essential English, and Extension English) and provide meaningful feedback in the consultation timeframe was seen as unreasonable. Information about the number of drafts planned, and a timeline for further consultation was sought.
Recommendation 15:
That a clear timeline for further syllabus drafts and consultation periods be provided.

General feedback
Members expressed a strong desire for the flexibility that they have experienced with the previous suite of English syllabuses. They strongly valued the capacity to design programs which took account of their local communities/context. They also strongly valued the capacity to choose their own texts.
A number of members also expressed a desire for sufficient specificity to allow those in more isolated situations to be able to understand the requirements of a quality program. Some members requested sample programs to give sufficient guidance to schools.
Some members questioned the reasoning behind retaining Extension English given the introduction of the Literature course. There has been insufficient time in this round of consultation to critically compare the Literature and Extension English syllabuses and provide feedback on how the study of literature has been articulated in them both. One member articulated a significant problem that will be faced with the introduction with the Literature course, that "small schools already struggle to provide a range of subject choices and this only complicates things further".

Recommendation 16: That assessment is designed to avoid narrowing the combination of content, genre and mode, allowing as much flexibility as possible for schools to respond to the needs of their students and communities.